We're celebrating National Pork Month here at South Dakota Soybean because pork is the #1 customer for soybean meal here in South Dakota. Peggy Greenway, pork farmer from Mitchell, SD, shared this guest post with us. You can also find it in the latest issue of the 'Hood Magazine here.
What do you enjoy most about fall – is it the cooler temperatures, pretty leaves, football games, or pumpkin pie and apple cider?  I love all of those things, and really pretty much everything fall-ish.  I also enjoy celebrating National Pork Month in October.  Let's face it, bacon is everyone's favorite ingredient in so many yummy tailgating treats.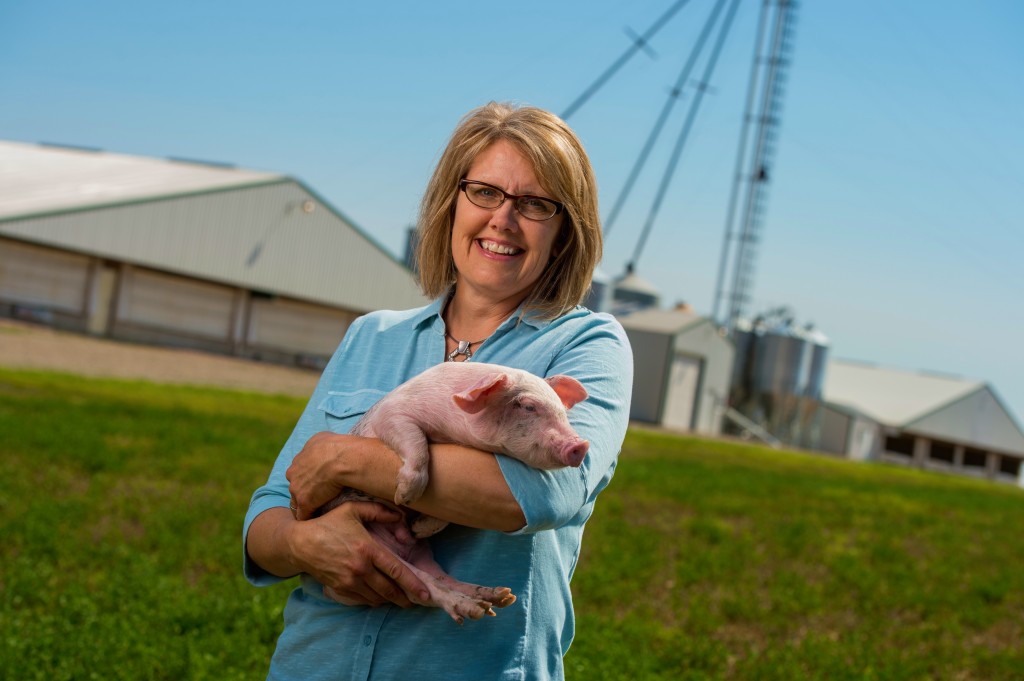 I've been a pig farmer for 33 years, while my husband has been raising pigs since he was old enough to lift a scoop shovel.  Like all family farms, our farm has changed extensively over the years.  When we visit with people about pig farming, we spend a lot of time explaining how our new modern barns work and how they help keep our pigs comfortable all year.  We Midwesterners know how chilly winters can get and I'm so glad our pigs are oblivious to the fact that a blizzard may be raging outside on any normal January day.  Most people find it fascinating to learn how the ventilation and temperature in the barns is regulated by the computer, how feed is automatically moved through plastic pipes to all 24 feeders in each barn, how the automation reduces the manual labor and allows us more time to observe the pigs when we walk through them twice each day, and how the alarm system alerts us by cell phone if anything goes wrong.
But we also talk a lot about how things used to be for our pigs years ago.  People are really interested to learn how technology has automated things for us.  However, an important goal for us is to help people understand how things used to be.  It seems that only in knowing the struggles we went through in the past to keep our animals comfortable that people begin to understand why we, and most American pig farmers, have moved our pigs indoors.  I wish we had more pictures of the old days on our farm to help people see the difference, but I don't.  You see, I wasn't very proud of how our animals looked back then.
The transformation of our pig farm over the years is something my husband Brad, our two adult children, and I remember quite vividly because the old days involved a lot of manual labor.  Most people we visit with can only use their imagination of our farm's past based on our descriptions.  This summer we had a unique experience though.  We were thrilled when a family friend's foreign exchange student from Germany visited our farm with her husband and son.  It was fascinating for us to hear what she remembered about our farm twenty years ago.  The pigs were outside back then and she remembers the mud, so much mud, and dirty pigs.  After looking at the pigs in our barns now she just couldn't get over how clean and white they were and how content they seemed.
Brad and I spend so much time talking about our farm and explaining why we've made the changes we have. It's really difficult to help people understand that the large metal buildings on our farm are not a 'corporate farm' or a 'factory farm', they are part of our family farm.  It was fun to get our friend's perspective because she knew us twenty years ago and knows we are still the same family farmers!
To view some of Peggy's favorite pork recipes from the latest issue of the 'Hood Magazine, click here.