We're celebrating National Pork Month here at South Dakota Soybean because pork is the #1 customer for soybean meal here in South Dakota. Peggy Greenway, pork farmer from Mitchell, SD, shared this guest post with us. You can also find it in the latest issue of the 'Hood Magazine here.
"My name is Peggy Greenway. My husband, Brad, and I farm near Mitchell, where we grow corn, soybeans, wheat, and alfalfa. We also take care of 180 beef cows and raise 10,000 pigs each year in two modern pig barns.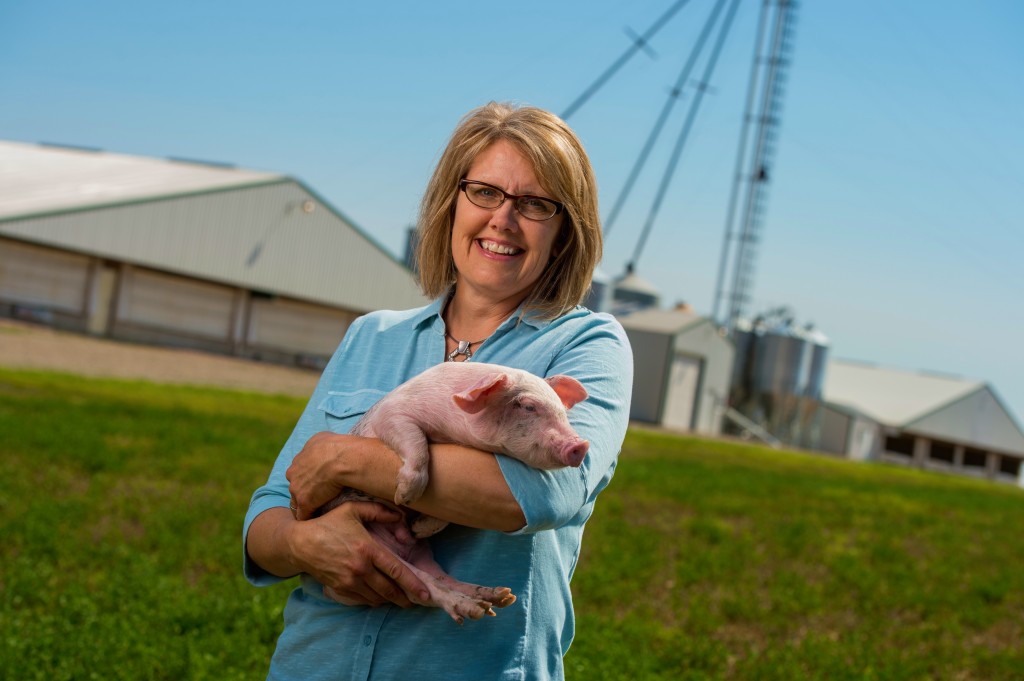 As pork producers, my family loves to celebrate National Pork Month in October with some mouthwatering pork recipes. And it just so happens that National Pork Month also corresponds with two of my favorite seasons: harvest season and football season.
As a farmer, harvest season is an incredible time of the year. It's very fulfilling to spend time in the corn and soybean fields and see everything you put into the growing season come to fruition. However, it also means very early mornings, late nights, and living in the combine. Preparing meals during harvest can sometimes be a challenge, but organizing on-the-go meals is really a challenge all moms can relate to. I'm happy to share some of my favorite quick and easy pork recipes that are sure to please, whether you're at the soccer field or in a tractor.
Now, on to football season. It doesn't matter if you're watching your favorite team from the 50-yard line or from the comfort of your own living room, one thing remains constant, and that's the time-honored tradition of tailgating. From the parking lot to the kitchen, cooking and football go hand in hand. I'm sharing some pork recipes that will bring family, friends, and football fans together no matter their team of choice.
Before we dive into delicious recipes, I do want to take a moment to address a concern you may have about pork. As a mother and grandmother I am very concerned about food safety for my family, and one topic I've had other mothers ask me about is hormones in meat. Pig farmers are not allowed to use added hormones in pork production. If you see pork in the grocery store labeled "no added hormones" that label is simply a marketing tactic. There's no reason to pay extra for that label. Even so, it's important to remember hormones occur naturally in all animals and even in fruits and vegetables, so they are not something to fear. If you have any questions, please reach out to me or visit www.findourcommonground.com to learn more."
Carolina Country Style Ribs
From Pork Be Inspired
Time: 15 minutes for prep, 1 hour to cook
Ingredients:
– 1 1/2 to 2 lbs. boneless country-style pork ribs
– 2 c apple cider vinegar
– 1 c water, cold
– 2 tbsp. vegetable oil
– 2 tbsp. molasses, OR 1/4 c firmly packed brown sugar
– 1 tbsp. kosher salt
– 1 1/2 tsp. crushed red pepper
– 1/2 tsp. cayenne
– 1/2 tsp. pepper
Directions:
Place ribs in a large bowl or resealable plastic bag and set aside. In a 4-cup glass, measure and stir together, water, oil, molasses, salt, red pepper flakes, and cayenne pepper until salt is dissolved. Remove 1/2 cup of marinade; set aside. Add remaining marinade to ribs; seal bag and marinate for 4-6 hours in the refrigerator. Remove ribs from marinade; discard marinade.
Prepare medium-hot fire; grill ribs over indirect heat for 50 to 60 minutes or until pork is tender and the internal temperature reaches 160 degrees F. Baste ribs twice with reserved sauce mixture during the last 15 minutes of grilling.
To view more pork recipes from the latest issue of the 'Hood Magazine, click here.