In our last blog post, we told you we were traveling to Guatemala and Nicaragua with the World Soy Foundation (WSF) and the World Initiative for Soy in Human Health (WISHH). Here's what we focused on, learned about and saw while we were in Guatemala:
The World Soy Foundation, in conjunction with Cargill, held a Corporate Social Responsibility Conference. The conference focused on the problem of malnutrition in Guatemala, and what the business community can do to help solve the problem. In Guatemala, one out of two children suffer from malnutrition, with some rural communities experiencing much higher rates.  Nathan Ruby, the executive director for the World Soy Foundation, talked with us about the focus and the goals of the conference.
The second day of the conference centered around site visits to local organizations around Guatemala City. It was really great to get out and about around the city, and see first-hand some of the projects and centers that are fighting malnutrition. The first visit we had was to Centro de Artes y Oficios. This center was a school that taught the students a trade or a skill that they could use later in life. This organization had a "soy cow" which is a machine that produces soy milk from soybeans. For some of the students in the program, their meals made with soy at the center are the only protein they receive during a day. Not only does the center use soy milk to meet the nutritional needs of its students, but it also packages the milk and sells it in the community. This helps the center remain sustainable, as well as gives the people in the community the opportunity to introduce the protein-rich soy milk into their diets.  We were lucky enough to see the soy cow in action and learn about the process. Check out our Facebook photo album to see pictures of what a soy cow looks like.
Our group also visited another nonprofit organization in Guatemala City, Fundaninas. Fundaninas is a nonprofit organization in Guatemala that provides a permanent home to abused, abandoned and "high risk " girls ages 3 to 20. The World Soy Foundation has worked with Fundaninas and Rotary Clubs to provide them with a soy cow. Fundaninas uses a soy cow, much like Centro de Artes y Oficios. They consume soy milk themselves, but also sell it in the community.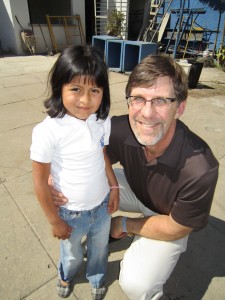 The girls at the home were AMAZING. They greeted us all with hugs and smiles, and they even gave us as tour of their home. They also performed a mini-concert for us, and sang a number from The Sound of Music. They did such a great job, and you can watch it on our site. A couple of the older girls who spoke English talked with us about their lives in Guatemala and their career goals. Meet Jemari and Fernanda:
Visiting the two centers in Guatemala City was a meaningful experience for all of the soybean farmers and representatives. It's amazing to see the impact that soy can have in a child's life. According to Nathan Ruby, some of the organizations even "complained" that the children have too much energy now after introducing soy into their diets. In closing, we think that's a complaint we can live with.:-)